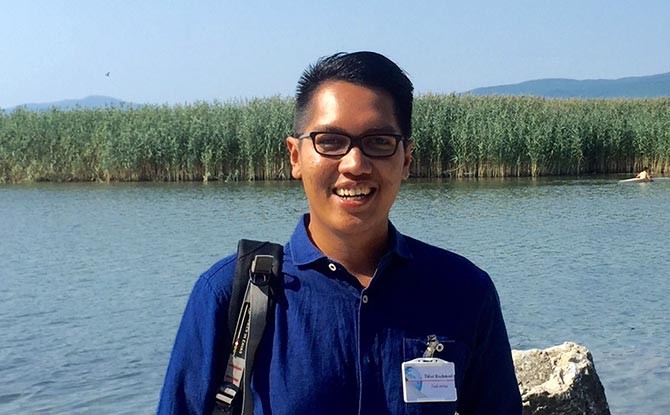 XL Future Leaders Facilitator Attends the PGLI Leadership Program in Macedonia
This month one of the XL Future Leaders facilitators, Tidar Rachmadi, is attending a global leadership program in Struga and Skopje, Macedonia (August 11th to 23rd). The program is developed by Preparing Global Leaders Foundation (PGLF), a Washington DC based educational non-profit conducting its 4th Preparing Global Leaders Institute in Macedonia.
Tidar has been awarded a scholarship and is fully supported by XL Axiata to attend this program. This year, the Preparing Global Leaders Institute (PGLI) includes 41 delegates from 33 countries around the world so we are very proud that Tidar is among them.
PGLI is a leadership program designed for young professionals and this year's participants includes leaders from a variety of industries: lawyers, health practitioners, young senators, educators, doctoral students, athletes, etc. Delegates also representing business, private, and public sectors with impressive specialties and credentials. The diverse backgrounds of delegates enrich the program and makes the classroom discussion highly engaging and dynamic. This rewarding experience will surely enrich the classroom experience for XL Future Leaders workshops upon Tidar's return.
In the first leg, the PGLI campus is taking place in the city of Struga by Lake Ohrid, a UNESCO World Heritage site. During the two-week program, delegates will be equipped with courses on economics, diplomacy, geo-politics, psychology of leadership, and communication. What makes it even more exciting is the fact that PGLI's curriculum is delivered by world-class faculty comprised of professors from Georgetown University, Harvard University and Boston University, as well as practitioners from a variety of fields. Speakers include professors, U.S. and UK ambassadors, and experts.
As an XL Future Leaders facilitator, Tidar has been absorbing all material, knowledge, and information in order to transfer his learning back to the XL Future Leaders program. If you would like to know more about Tidar's experience with PGLI, follow @XLFutureLeaders on Twitter and he will be providing a daily report from Macedonia through August 23rd, 2015.