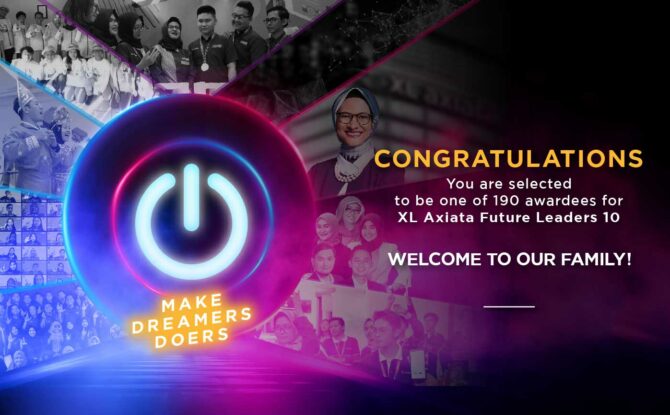 Dear New Awardees
Welcome to XLFL Family, now you are officially part of Batch 10 cohort! Congratulation!
We want to welcome each of you to XL Axiata Future Leaders Program! You are about to begin one of the most exciting times in your life. We cannot wait to make you busy and experience this Award-Winning Program. Everyone in the family wants to help you make your "XLFL Experience" an extraordinary one!
You might often hear that XLFL provides a positive environment to welcome critics, debates, and many other differences that addressed appropriately, and it is true! This is the way we build its depth of character, traditions, diversity, commitment to shape your human skills excellence, as well as to bring its surroundings partake in making all XLFL awardees such exemplary youths for more youths out there.
DO remember how you went through your selection journey competing with the other 41,173 applicants, bigger than the previous intake. More, we are pleased to announce that we now welcome 190 selected awardees, the biggest in number in XLFL selected awardee history!
You and the other 189 selected awardees will have the privilege to experience a 2-year leadership and soft skills development program that is unique, empowering, valuable, yet challenging and pushing all the awardees to go extra miles. We make sure that this program will keep on delivering proven best results and impacts for every awardee and beyond.
To continue to the next step, we are delighted to invite you all 190 selected awardees to attend XL Axiata Future Leaders National Conference on November 27-28, 2021 online! Details of what you need to prepare will be given soon to your email. Check your email regularly not to miss any info we are going to share.
See you!
XLFL Core Team