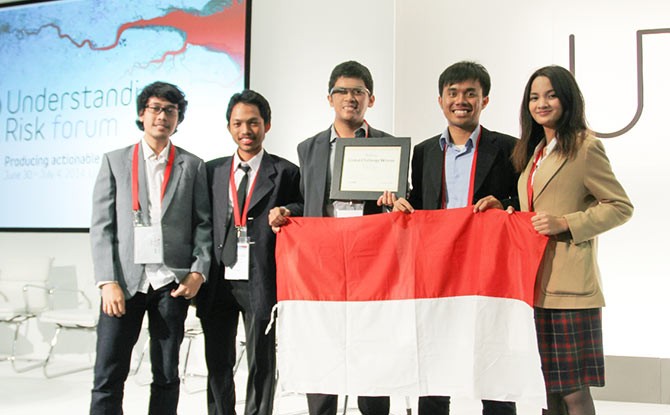 XL Future Leader Wins Global Programming Competition
This past week a team of students from Gajah Mada University in Yogyakarta returned from the Code for Resilience competition in London after being awarded "Global Winner" for their disaster mitigation application Quick Disaster made specifically for Google Glass.  XL Future Leader Daniel Oscar Baskoro (center image, wearing Google Glass) served as the team's project manager, along with his teammates Zamahsyari (programmer), Bahrunnur (programmer), Sabrina Woro Anggraini (copywriter), and Maulana Rizki Aditama (data analyst).
Quick Disaster was chosen from among the competition finalists by a panel of experts selected by the World Bank.  Attendees of the competition included hundreds of professionals from around the world including the mayor of London, multiple directors from the World Bank, and representatives from top organizations such as Google, Microsoft, Mozilla, and Net Hope.
The Quick Disaster application is the result of a long process of research that not only included developing an understanding of the technology needed to build the application, but also understanding the contexts of the developing nations in which the app would be used, as well as collaborating with field experts in disaster relief.   When describing his leadership role on the team, Oscar said that his role was that of a servant leader cultivating an innovative culture in the group by focusing on effective communication and collaboration.  He specifically mentioned being inspired by historical Javanese leadership figure Sultan Yogyakarta HB 9, a champion of servant leadership philosophy.  Oscar also attributed the strides he has made in the XL Future Leaders program as directly impacting his success in leading this team.
From [the XL Future Leaders] curriculum I learned a lot about leadership styles that have been implemented in society so I will know the positive and negative side. The curriculum about thinking tools was really useful when I was formulating the benefit of the application so I can create an application that I think is really qualified. Where the application can be useful not only when a disaster occurs but also before and after the disaster (rehabilitation of disaster).
We are very proud of Oscar's efforts and we look forward to the many accomplishments that lay ahead for this future leader.
Related Links: