Celebrating A Year of Homebound, How Can We Be More Resilience?
It has been exactly a year since March 2020 reminded us about how the pandemic has changed our relationships with our homes. Suddenly, we are inside them. In normal times, so much of public life such as work, school, exercise, shopping, and socializing was happening outside them. Now, for more than a year, this so-called 'public life' has happened entirely within the walls of our homes. Funnily, one activity like 'virtual meeting' has become a lifestyle.
It was not an easy way, everyone must adapt. There were times where we grew weary because of numerous virtual meetings. Many of us have gone through challenges that are so stressful, overwhelming, and even caused bad emotional state. More, this 'at home activities' have made us feel isolated and lonely, and impacted our tolerance to stress and anxiety. It is normal to feel stressed, anxious, grieving, and worrisome during the homebound year yet we cannot let them outrun us.
All those feelings above also were felt by Andi Aisyah Alqumairah, who is an XLFL Batch 6 alumni. Aisyah, who's a graduate of Psychology, is currently working as a corporate strategic analyst in one of the private companies in Jakarta. Besides her full-time job, she is also actively building her social community while usually being an invited speaker around issues of mental health, woman empowerment, personal branding, etc. in numerous online and offline seminars. Here are the tips from Aisyah to build resilience, not only for the homebound year ahead but also for unpredictable situations the world may still serve us.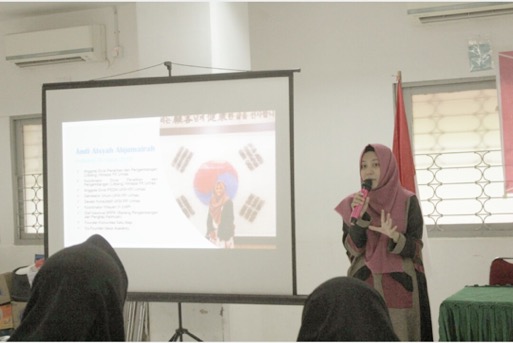 Develop Self-Awareness
In defining self-awareness, Aisyah suggests that we take some time to get to know ourselves, especially to know about ways we can cope with stress. This also will lead to recognizing our strengths and weaknesses. In addition to that, being mindful and being present in whatever we are doing will help us engage in a better quality of activities because we never know the things waiting for us ahead, our privilege today could be taken away from us in a blink of an eye.
Build Self-Discipline Skill
Being homebound means there's a likelihood for people to be more receptive to negative emotions. Even though we are oftentimes told that feeling bad is not good for ourselves, it is perfectly natural and valid to feel stressed out in all of these situations. Self-discipline helps us control the negative emotions assertively – if you feel sad, acknowledge that you are sad, if you are mad, admit it in a way that wouldn't harm anyone. Finding somebody who will listen could be another alternative, doing healing activities such as listening to the podcast or music, singing until the top of your lungs, painting, drawing, and many more can also serve your mental health right.
Increase Optimism
Designing goals with optimism must be accompanied by a sense of reality. Using SMART tools (Specific, Measurable, Attainable, Realistic, Time-based) can be a start. We can start from the simplest thing such as writing a to-do list in a day, journaling about what we have achieved and things that we are most grateful for on that day.
Strengthen Connection
One of the biggest advantages in building resilience is the amount of social support we receive whether it is from family, friends, couple, and neighbor. You can try by having a discussion, problem-solving together, and sharing about how we reflect on certain things. Human thought is like a tangled thread, sometimes discussing with someone will help you to reframe your thought. In addition to that, positive support creates a collective power to feel safe and needed. But definitely, there should be a taking and giving-act. The connection must have a mutual relationship, so it is not only how much we deserve to receive the support but also how much we can give positive vibes to our surroundings.
Charles Darwin once said, "It is not the strongest or the most intelligent who will survive but those who can manage change." Step by step, day by day to strengthen our resilience with the points above will surely be our weapon in being able to face an unpredictable change. Good Luck!
Miraya Tifani Hasri – XLFL Batch 8 Awardee