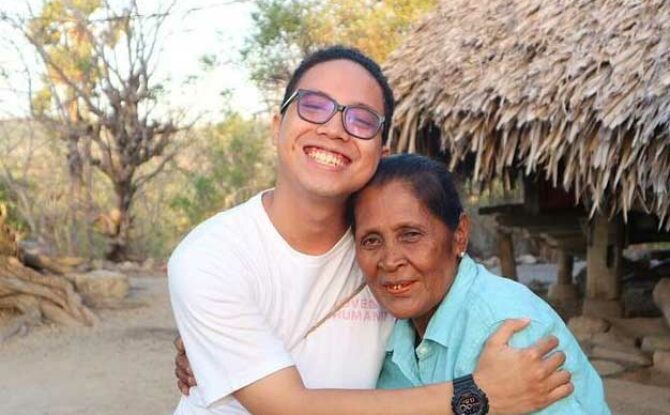 To Serve, Not to be Served – A 2020 Kaleidoscope from Maluku
George Raden Mas Said – XLFL Batch 1
A Doctor in Puskesmas Perawatan Laimu, Maluku Tengah, Maluku
---
"The only thing that differentiates one another this year is people's ability to display & process gratitude."
These are the words that came from George when I asked him a single sentence to elaborate on the year 2020. While most people are busy chasing productivity and new activities, George chooses to be busy being grateful. In his perspective, which I personally also agree with, everyone faces the same episodes this year, but the coping mechanisms from each of them are different. Although the process is different, what's lacking the most in the "finish line" is how one could stay grateful this year.
George Raden Mas Said
George grew up full-time in Indonesia's capital, Jakarta. He spent his college life as a student in Jakarta by studying medicine. It was one of George's biggest decisions in his young-adult era and is getting exciting after he went to a 1-year internship program.
"The internship was my literal life-changing experience and I will never regret it."
To put it into context, George was taking his one-year long internship in Nusa Tenggara Timur (NTT), in a village where he became a doctor there.
Since the atmosphere of the non-urban area clicked with him, he looked for his parents' permission to leave Jakarta and move to Eastern Indonesia to dedicate himself ther after his internship. Then, in November 2018, he moved to Laimu, Maluku Tengah, Maluku until today.
The Journey
The first time, George put his feet on Laimu's ground, he was faced with the fact that he is the only doctor in the district. It wowed him more when he knew that he's the doctor that is responsible for approximately 22.000 people at one time, while usually a doctor only handles 600 people at one time. It's getting complicated when the distance between his district to the hospital is 150 km that takes 4 – 5 hours with the current access. It pushes his adrenaline to work harder for the people since this is his main purpose: to accommodate the people who don't get any access to healthcare.
"Let me give you a thing about healthcare, people mostly come because they are seeking 'sick-care' instead of healthcare. People come because they are sick, not because they want to prevent themselves from getting sick."
Challenging, fun, and dedication are his ace cards to explain his journey. "Dedication" seems to not only be his word but also his tangible action in Laimu by running 3 initiatives in health and sanitary promotion to promote healthcare –and not sick-care– in his place.
Komunitas Kelasan (Keeping) Kesehatan Ibu dan Anak (K3IA), which focuses on promoting mother and children's health along with their development.
Created a mentored village in the middle of the mountain for health and sanitary programs every 3 months since they have very limited access to healthcare and health information.
Mountain climber advocacy program, which focuses on advocating health and sanitary for the mountain climbers in Mt. Binaya, one of Indonesia's biggest mountains.
How 2020 Shifts the Non-urban Areas
George explained the kaleidoscope lies in 3 major layers that we need to take into account.
The area before the pandemic
Before the pandemic, most people neglected the existence of doctors and medicine and mostly focusing on having a traditional way to cure a disease. Some of them are not aware of the importance of health and sanitary.
The area during the pandemic
At first, people were afraid about the condition, although some of them are believing that COVID is a hoax and everything was okay when it was actually not at all. George created 2 major strategies to increase the awareness of COVID and increase people's health and sanitary condition:

Create a personal discussion with the people
Promoting the topic on all platforms, including a collaboration with the local government.

The result? Immaculate and pretty effective. This proves a point that a pandemic is not a reason for us to put our dedication and effort to rest.

The area 10-month in the pandemic
Up until now, some people have contracted the belief that COVID is a hoax and is a non-existent condition. The people are starting to go back to the world before the pandemic. But, this is where George's part becomes very important, and I still advocate it with the same strategies as before, even create a stricter rule for my patients before they come to see me. The result? Still immaculate.
How XLFL Has Helped George
"Things you need to know, in here, I am not only becoming a doctor but also the area's figure and problem solver. So, soft skills really take a plethora of spaces here."
As alumni of the first batch, George believes that XLFL has helped him in so many ways, specifically in effective communication. Imagine you get a call to solve a hard health problem, or someone who is forcing you to have an abortion (when you personally afraid to do it), or even to solve their child's possession problems, the only thing you can do is to reject it politely and effectively. "XLFL helps me a lot in maintaining relationships with my neighbors and giving clear and splendid information to the people."
Messages for the Readers
"Sometimes, their main source of knowledge is the urban people. So, please help us by, at least, be responsible to promote health protocol during the pandemic."
George's message was very specific, and to wrap up his "2020 rewind" he asked for help from the people having bigger health information access to spread goodness. For me, wearing a mask is not a hard thing to do. Washing our hands definitely gives more good than harm. Lastly, distancing ourselves from others is not reducing our relationship. Lastly, be grateful for what you have and the process of learning beneath it. Not everyone could finish the COVID's season finale gracefully and gratefully.
Written by Ubay Syakhisk Arbi Mohamad – XLFL Batch 7