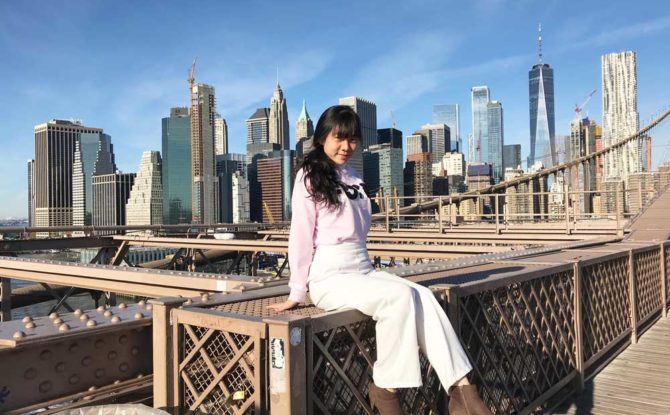 Empower More, Get Back More
Jessica Triady – XLFL B6 Medan – Founder WolleWolly
The restriction of freedom and mobility which women experienced due to gender discrimination at that time was the reason behind Kartini's aspiration. Just like Kartini, Jessica Triady also recognizes the same problem. Many women are experiencing restrictions, one of which is due to financial difficulties. They are prevented from exploring their potential since they cannot afford to.
Through her business in handcrafting called WolleWolly, Jessica realizes that she can do something to help address this issue. She then turns WolleWolly to be a social enterprise whose profit is generated to empower underprivileged women in her community. She conducts a free crocheting training for them with an aim to equip them with a handcrafting skill. As a result, the women can eventually produce something to be sold and earn extra income from the sales. So far, she has empowered more than 50 women and some have successfully made their crocheting skill their paid hobby.
In order to empower, it is believed that one needs to possess a leadership skill like how Kartini used her critical thinking skill. Therefore, being one of XL Future Leaders has given Jessica a lot of support to do what she is doing. One of the core competencies learned in XLFL, Entrepreneurship & Innovation has played the biggest role in the way she detects problems and implements innovative ideas.
"Without the insights I've gotten from XLFL, empowering other women might seem impossible for me. Thank you XL Future Leaders for having empowered me with leadership skills so that I can empower more!"
XLFL is a home where you can find people who will endlessly support you, be it the facilitators and fellows! As you are an XLFL, you also have to be that supportive and positive home for those around you.
Back story then, believe it or not, Jessica was ever ranked the lowest in her class and almost had to repeat another year of high school. That her family went bankrupt was the only thing she was concerned at that time. Her family could no longer afford to pay her school fees which made her have to work and help afford it. Life was tough, however, she still saw hope in herself. Despite having bad grades and no money, she still had a big dream which was to study abroad. Her dream seemed so unrealistic as going abroad required good grades and some money. Her teacher then told her, "DON'T DREAM TOO BIG!" At that point at that moment, she thought it was right. She was so down and stopped pursuing her dream.
In the second year of study, she was lucky to make friend with one of the XLFL awardees. She got to know about how awesome the XLFL program was and got so inspired. She decided to apply for it and, unexpectedly, she got accepted! Excited at the first time, but felt so insecure after meeting all of the other awardees. She thought she was nothing compared to others. However, her XLFL facilitator convinced her that there had to be something out of her insecurity. The facilitator totally supported Jessica.
One day, she heard about an opportunity to study in the US through the YSEALI Program. It interested her and reminded her of the old dream. At first, she hesitated to apply since she was told that it was impossible for her to study abroad. Yet, thank to her XLFL Facilitator who encouraged her to be courageous and stop looking down on herself, she applied and believed in herself. Through all efforts, she got accepted as one of 21 selected people across Southeast Asia to study at University of Connecticut for 5 weeks in 2018. Her dream finally came true.
Lesson learned. No dream is too big. It does not matter how unlikely the dream is for you to achieve. What matter is your efforts and how you believe in yourself! Most importantly, never let others define your dream (read: your future!) Thank you XLFL for making a very supportive and positive circle she might never find out there.
Somehow this story relates to Jessica's career, she is now working as a teacher because she realizes how important it is to encourage young people. She wants to be someone who believes in them just like what her XLFL facilitator did to her and hopefully she can wider spread the impact XLFL wants to give.
You may face something difficult, but never let your fear be bigger than your efforts!